In principle and in practice, AAUW values and seeks an inclusive membership, workforce, leadership team, and board of directors. There shall be no barriers to full participation in this organization on the basis of age, disability, ethnicity, gender, gender identity, geographical location, national origin, race, religious beliefs, sexual orientation, or socioeconomic status.
---
IMPORTANT ANNOUNCEMENT
The 2020 AAUW of Virginia State Conference, scheduled for April 17-19 in Alexandria, has been CANCELLED due to concerns about the health and safety of our members. We will be refunding all registration fees. For those who reserved rooms at the hotel, you will need to cancel those reservations individually.
We give a big thanks to the conference organizers Joanne Clark and Arlene Shapiro, our AAUW  of VA VP of Program, Sandy Lawrence, and the branches who volunteered to assist with the event.
We will be holding our 2021 State Conference March 12-14 at the Holiday Inn and Suites Alexandria (same hotel we were going to use in 2020).
Everyone stay safe!
Thank you all for your cooperation and understanding,
Carol Stephens and Leslie Tourigny
Co – Presidents of AAUW of VA
---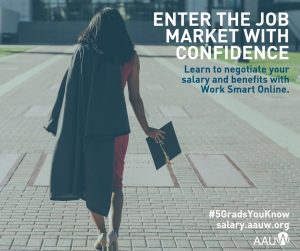 AAUW wants to help job applicants, including new graduates, feel confident about entering the job market. Encourage your friends to sign up for Work Smart Online.  Salary.aauw.org.
---
HUMAN TRAFFICKING INITIATIVE
Elizabeth Hendrix and Diane Schrier attended the AAUW Northern Virginia District Meeting on October 26 and presented the Alexandria AAUW Human Trafficking Intervention Intiative. Diane presented Virginia statistics and human trafficking stories while Elizabeth presented the branch's three-pronged approach with educational awareness, advocacy, and research and development. Elizabeth focused primarily on the rescue tool, the AAUW Angel App with Angel Alerts, from the research prong and grant work for funding to develop it. She and Diane asked for branch support of it for the grant applications in particular and appealed to the Northern Virginia branches which had not formally replied with their support yet.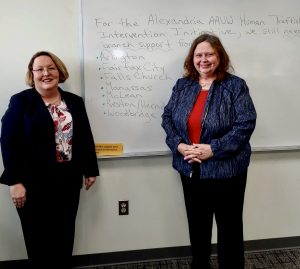 Elizabeth Hendrix and Diane Schrier
---
AAUW Mission
AAUW advances equity for women and girls through advocacy, education, philanthropy, and research.
AAUW's Vision Statement
AAUW empowers all women and girls to reach their highest potential.
AAUW's Value Promise
By joining AAUW, you belong to a community that breaks through educational and economic barriers so that all women and girls have a fair chance.
AAUW Diversity Statement
AAUW values and seeks a diverse membership. There shall be no barriers to full participation in this organization on the basis of gender, race, creed, age, sexual orientation, national origin, disability, or class.
WHAT WE DO AND WHO WE ARE:
---
"In 1885, as its first research report, AAUW's predecessor organization called the Association of Collegiate Alumnae (ACA) set out to disprove the ridiculous theory that a college education would harm a woman's health and result in infertility.
"Annie Howes, who led the ACA's survey committee at the time, developed a series of 40 questions and sent them to 1,290 members. Of those women, 705 submitted responses. The results of the study showed that 78 percent were in good health and 5 percent in fair health and that, not surprisingly, education did not adversely affect women's health. The final report, Health Statistics of Female College Graduates, was published in conjunction with the Massachusetts Bureau of Statistics of Labor."
https://www.aauw.org/2013/05/13/college-doesnt-make-you-infertile/
We're still researching and working for you!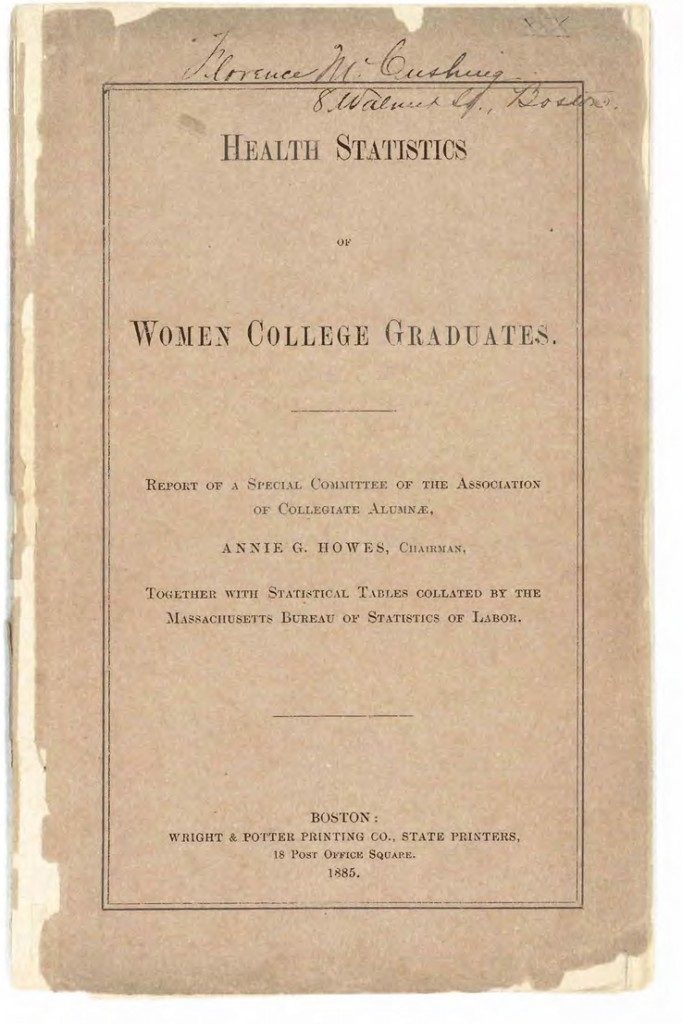 ---