In principle and in practice, AAUW values and seeks an inclusive membership, workforce, leadership team, and board of directors. There shall be no barriers to full participation in this organization on the basis of age, disability, ethnicity, gender, gender identity, geographical location, national origin, race, religious beliefs, sexual orientation, or socioeconomic status.
---
Letters from the Co-Presidents
October 2021
Dear Friends,
We are having a very busy September. We co-sponsored a forum with Mt. Vernon on Voting Rights. Some of the most important facts that came out of the forum are:
If you mail-in your ballot, who must have a witness signature on the envelope. Last year, it was eliminated because of covid restrictions. It is reinstated this year.
Virginia has moved from #40 nationally to #12 nationally in the ease of voting over the last few years. This is a major achievement, but we still need to work on ex-felons regain their voting rights.
"It Can Happen Here". The very recent situation in Pennsylvania where the Senate has subpoenaed an extreme amount of voter information, including driver's licenses and social security numbers from all voters to hand over to an undisclosed and not yet chosen third person party for auditing is scary and designed to create a distrust of our election season. Your vote matters. Please vote. Early voting has started.
Our Meet and Greet, hosted by Danielle Beach, was very well attended. The food, as always, was excellent and we were all happy to see each other again and to welcome new members. The vote to incorporate our branch as a Virginia Non-Stock Corporation was passed.
Thank you to everyone who donated gift cards. They will be very welcomed by our new Afghanistan refugee residents.
Thank you for all of your participation and assistance in our group. Stay healthy.
Diane and Sylvia
AAUW-Alexandria Co-Presidents
---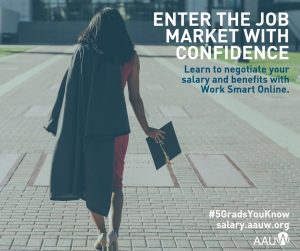 AAUW wants to help job applicants, including new graduates, feel confident about entering the job market. Encourage your friends to sign up for Work Smart Online. Salary.aauw.org.
---
AAUW Mission
AAUW advances equity for women and girls through advocacy, education, philanthropy, and research.
AAUW's Vision Statement
AAUW empowers all women and girls to reach their highest potential.
AAUW's Value Promise
By joining AAUW, you belong to a community that breaks through educational and economic barriers so that all women and girls have a fair chance.
AAUW Diversity Statement
AAUW values and seeks a diverse membership. There shall be no barriers to full participation in this organization on the basis of gender, race, creed, age, sexual orientation, national origin, disability, or class.