In principle and in practice, AAUW values and seeks an inclusive membership, workforce, leadership team, and board of directors. There shall be no barriers to full participation in this organization on the basis of age, disability, ethnicity, gender, gender identity, geographical location, national origin, race, religious beliefs, sexual orientation, or socioeconomic status.
---
Letters from the Co-Presidents
May 2022
Dear Friends,
We have had a very interesting month. Our April 23, School to Prison Pipeline Forum was very successful with almost 50 people signed up for it. Our speakers, Commonwealth Attorney for Arlington and Falls Church, Parisa Dehghani-Tafti, and Dr. Kenneth Gilbert, Director of Diversity, Equity and Inclusion for the Howard County Public School System had spent many years working on this issue and trying to find better ways to help adolescents.
On April 24, AARP's "6 Pillars of Brain Health" was also very informative. Subhaker Satyanarayan, AARP's 2022 Virginia Presidents Award for Community Service, was an excellent speaker and lead the discussion. Donna Hayford helped with organizing and facilitating the program.
Margaret Zebrowski, needs help this summer with organizing the dinners for the homeless for Christ Church. Please contact her at mmzebrow@aol.com.
We would like to make the programs that are offered at the branch's monthly meetings as engaging, relevant and timely as possible. Please email or call one of us and let us know your ideas.
Don't forget to vote in the National Election for the Board of Directors and the Resolutions. The election closes on May 16th at 5:00 pm. Please read the resolutions carefully.
Diane Schrier and Sylvia Linke
AAUW-Alexandria, Co-Presidents
---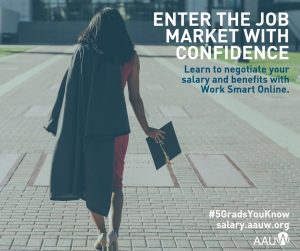 AAUW wants to help job applicants, including new graduates, feel confident about entering the job market. Encourage your friends to sign up for Work Smart Online. Salary.aauw.org.
---
YEAR IN REVIEW
2021-2022
AAUW Alexandria has been very involved in Diversity, Equity and Inclusion this year. We started the year with sending out cards, urging people to vote. Then we cosponsored a Voting Rights Forum in September and learned about the changes that have taken place in voting practices. We had a seminar about immigration led by Danielle Beach and Dawn Watkins. Many attended a seminar about DE&I in January. Our meeting with the Director of African American Museum in Alexandria, Audrey Davis, taught us about the history of black women in Alexandria and about the new data base of stories about these women and men also. We cosponsored a seminar about the school to prison pipeline, which affects minority students throughout their lives and the increase in black girls being arrested.