___________________________________________________________________________________________
In principle and in practice, AAUW values and seeks an inclusive membership, workforce, leadership team, and board of directors. There shall be no barriers to full participation in this organization on the basis of age, disability, ethnicity, gender, gender identity, geographical location, national origin, race, religious beliefs, sexual orientation, or socioeconomic status.
---
Letters from the Co-Presidents
May 2021
Dear Friends,
Hard to believe but this is our last co-presidents' letter! It's been an absolute honor to serve the branch. We are grateful for your membership and involvement in our AAUW- Alexandria family – especially in a time which has been so complex for the country and the world. We've come together to build connectedness while isolated, and to accomplish quite a bit. I hope you have taken advantage of our Zoom meetings, and that you will join us for the May 23, 2p Virtual Annual Meeting.
Now we want to ask something (more) of you. I (Lane) am on a personal mission to get rid of the phrase "violence against women," and replace it with "male violence" or even, "male violence against women." According to the World Health organization, and common sense, almost all the abuse I'm talking about is committed by men.  let's put accountability on men who commit  these acts and on the culture that allows it.  Passive language makes it sound like this happens to women, like there's no one doing it to them.
Are you with us on this?
See you at the Annual Meeting,
Lane and Gail AAUW-Alexandria Co-presidents
---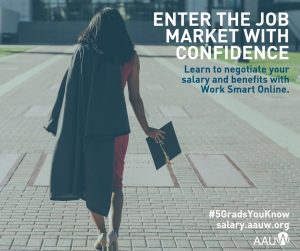 AAUW wants to help job applicants, including new graduates, feel confident about entering the job market. Encourage your friends to sign up for Work Smart Online.  Salary.aauw.org.
---
AAUW Mission
AAUW advances equity for women and girls through advocacy, education, philanthropy, and research.
AAUW's Vision Statement
AAUW empowers all women and girls to reach their highest potential.
AAUW's Value Promise
By joining AAUW, you belong to a community that breaks through educational and economic barriers so that all women and girls have a fair chance.
AAUW Diversity Statement
AAUW values and seeks a diverse membership. There shall be no barriers to full participation in this organization on the basis of gender, race, creed, age, sexual orientation, national origin, disability, or class.
WHAT WE DO AND WHO WE ARE:
---
"In 1885, as its first research report, AAUW's predecessor organization called the Association of Collegiate Alumnae (ACA) set out to disprove the ridiculous theory that a college education would harm a woman's health and result in infertility.
"Annie Howes, who led the ACA's survey committee at the time, developed a series of 40 questions and sent them to 1,290 members. Of those women, 705 submitted responses. The results of the study showed that 78 percent were in good health and 5 percent in fair health and that, not surprisingly, education did not adversely affect women's health. The final report, Health Statistics of Female College Graduates, was published in conjunction with the Massachusetts Bureau of Statistics of Labor."
https://www.aauw.org/2013/05/13/college-doesnt-make-you-infertile/
We're still researching and working for you!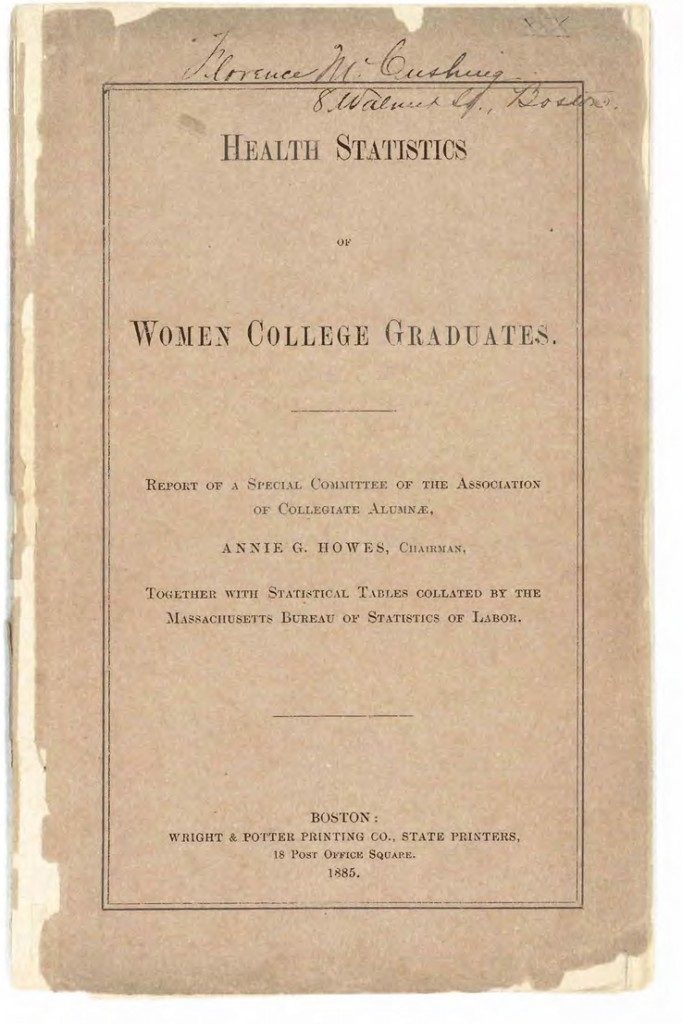 ---