IN RESPONSE TO THE DEADLY ATTACK IN PITTSBURG
A Statement from Lane Stone, Co-Pesident, AAUW – Alexandria Branch
Many times in our lives we're compelled to choose not just what we stand for but also who we will stand with. Last week's package bombs and the shooting at the Tree of Life Synagogue call on us to reaffirm our solidarity with victims of senseless violence. Women and men of good will, like AAUW members around the country, remain united against hate and violence.
_______________________________________________________________
IN MEMORIAM  JOANN MILLER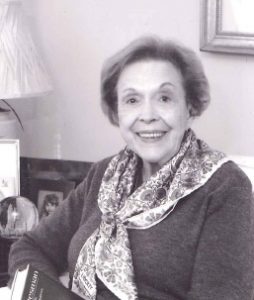 Longtime AAUW member, Joann Miller, died on Tuesday, November 20th at the age of 91, in her apartment at the Greenspring Retirement Community in Springfield, VA.  A viewing will be held on Dec. 6th, 5 – 8 PM at the Everly-Wheatley Funeral Home, 1500 West Braddock Road, Alexandria, VA 22302.  The funeral mass will be on Dec 7th, 11:00 – 12:00, St. Rita Catholic Church, 3815 Russell Road, Alexandria, VA 22305.   
While working for the United States Information Agency in Bordeaux, France, Joann met her future husband, Ed, and they were married in 1953 in Eastborn, England.  They moved to the Alexandria area when Ed, then a Lieutenant Colonel in the Air Force, was stationed at the Pentagon. 
Joann was a past president of our Alexandria AAUW Branch, and was active in many of the Branch's activities, prior to moving to Greenspring.  In 2013, Joann was named one of the living Legends of Alexandria.  Among Joann's many accomplishments, she was one of the founders of Alexandria's Commission on Women, and in 2010, the Commission honored her with the Marian Van Landingham Legislation and Public Policy Award.  Joann also led the Public Safety Committee of Alexandria's Commission on Aging; the Commission on Aging presented her with the Annie B. Rose Lifetime Achievement Award in 2010.  She volunteered as a counselor at the Alexandria Battered Women's Shelter and chaired the Substance Abuse Committee for the Alexandria Community Services Board.  Joann was preceded in death by her husband Ed. She is mourned by her two daughters, one son, and many friends.
_____________________________________________________
AAUW Mission
AAUW advances equity for women and girls through advocacy, education, philanthropy, and research.
AAUW's Vision Statement
AAUW empowers all women and girls to reach their highest potential.
AAUW's Value Promise
By joining AAUW, you belong to a community that breaks through educational and economic barriers so that all women and girls have a fair chance.
AAUW Diversity Statement
AAUW values and seeks a diverse membership. There shall be no barriers to full participation in this organization on the basis of gender, race, creed, age, sexual orientation, national origin, disability, or class.
Major Events in November
ERA STATEMENT PRESENTED TO CITY COUNCIL
Elizabeth Hendrix appearing before the Alexandria City Council
The following is the statement by Dr. Elizabeth Hendrix, Branch Public Policy Chair of
the Alexandria Branch of the American Association of University Women (AAUW),
Representing AAUW of Virginia, at the November 17, 2018, Public Hearing of the
Alexandria City Council Concerning the Proposed City Legislative Package for the 2019
Virginia General Assembly Session.
Good morning, Mayor Silberberg, Vice Mayor Wilson, and the other members of the City
Council. Thanks for allowing me to speak. I am Dr. Elizabeth Hendrix, Public Policy
Chair for the Alexandria Branch of the American Association of University Women
(AAUW), and I am here representing the 25 branches and 5,680 members and supporters
of AAUW of Virginia.
AAUW is the nation's leading organization promoting equity and education for women
and girls. Since our founding in 1881, AAUW members have taken positions on the
fundamental issues of the day — educational, social, economic, and political.
We applaud the City Council for ensuring that the proposed city legislative package
reflects support for equal rights for women, and specifically includes support for
ratification of the Equal Rights Amendment (ERA) to the U.S. Constitution. AAUW is
committed to passage and ratification of the ERA.
The majority of Americans mistakenly believe that under the U.S. Constitution women
and men have equal rights. Women's equality has been 1 advanced through legislation and
court decisions, which can be changed or revoked. The only way to ensure that all men
and women are truly equal under the law is by ratifying the ERA.
The ERA was first introduced in Congress in 1923 and was reintroduced every year until
its passage in 1972. However, because it is a constitutional amendment, it also needs
ratification by three-fourths of the states, which has not 2 happened. Ratification currently
stands at 37 states—one short of the 38 needed.
Between 2011 and 2016, ERA ratification legislation passed in the Virginia Senate five
times, but the House did not take similar action.3 During the 2018 session, there were
enough lawmakers signed on in each house as patrons to ensure passage of ERA
legislation—if only it had made it out of committee. Let's not let that happen again. For
the 2019 Session, Delegate Jennifer Carroll Foy has introduced House Joint Resolution
579 to ratify ERA.
Thanks to the City Council for joining with AAUW and other organizations and citizens
throughout the Commonwealth in letting our lawmakers in Richmond know that Virginia
can make history by becoming the 38th,and last state needed, to ratify the ERA. AAUW
of Virginia also asks that the City Council join other localities and pass a resolution in
support of ERA ratification by the Virginia General Assembly.
1 ERA Coalition. (2016). Why We Need an Equal Rights Amendment.
2 ERA Task Force of the National Council of Women's Organizations (2013). "The ERA in the States."
3 http://www.equalrightsamendment.org/era-ratification-map
---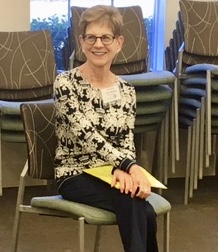 The monthly meeting of AAUW – Alexandria Branch met Sunday, November 11, 2018, at the Cameron Station Clubhouse. Member Bonnie Hershberg discussed the current state of Title IX.
---
WHAT WE DO AND WHO WE ARE:
"In 1885, as its first research report, AAUW's predecessor organization called the Association of Collegiate Alumnae (ACA) set out to disprove the ridiculous theory that a college education would harm a woman's health and result in infertility.
"Annie Howes, who led the ACA's survey committee at the time, developed a series of 40 questions and sent them to 1,290 members. Of those women, 705 submitted responses. The results of the study showed that 78 percent were in good health and 5 percent in fair health and that, not surprisingly, education did not adversely affect women's health. The final report, Health Statistics of Female College Graduates, was published in conjunction with the Massachusetts Bureau of Statistics of Labor."
https://www.aauw.org/2013/05/13/college-doesnt-make-you-infertile/
We're still researching and working for you!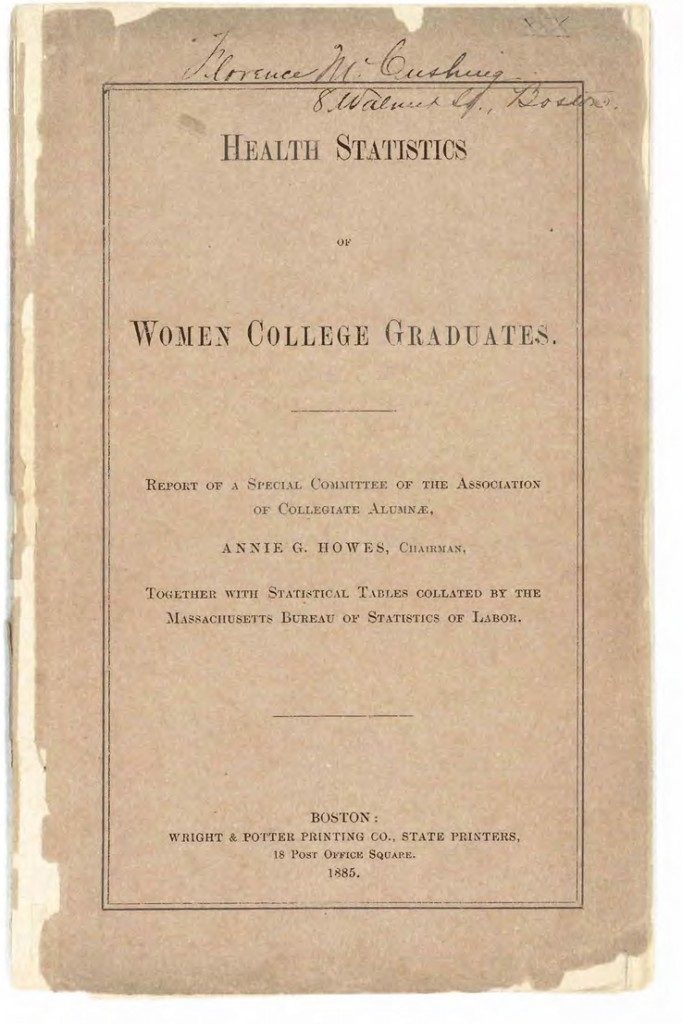 ---